8 Hiking Routes in Bizkaia to enjoy nature and the mountains
Nature and the mountains are some of the indisputable signs of identity of Bizkaia and of many of its people. In this province of the Euskadi hiking, going out into the mountains and exploring nature is almost a way of life. Mythical mountains, great routes with their own history and paths bathed by the Cantabrian Sea are their calling cards.
These 8 hiking routes in Bizkaia to enjoy nature and the mountains will allow you to explore the spectacular corners of this land. You will cross mountains and paths steeped in history, legends and ancestral traditions that mark its character and make its conquest even more imposing. Undoubtedly, it is an adventure that captures us with every step we take, making our passion for the mountains, nature and hiking grow.
Advertisement
These are the hiking routes in Bizkaia that we propose to you
As you can imagine, selecting 8 hiking routes in Bizkaia to enjoy nature and the mountains is no easy task. There are many routes, many places that come our way, some easier and others more demanding, making it practically impossible not to find a hiking route in Bizkaia that does not suit our tastes and preferences. Ascents to legendary mountains, old routes now converted into great hiking routes, or railway lines recovered as greenways, all of them surrounded by exuberant nature await us in Vizcaya.
Gorbeia from Pagomakurre
| | | |
| --- | --- | --- |
| Difficulty: Medium | Time: 3:15h | Distance: 12.2Km |
And what better way to warm up than to start with the ascent of one of the most representative Basque mountains of all, Gorbea. There are several ways to reach the summit of Gorbeia, either from Álava or from Vizcaya, there is no mountaineer who does not want to crown this mountain. The route that starts from Pagomakurre is perhaps one of the most popular, partly due to its apparent simplicity when the weather and terrain conditions are optimal, being a beautiful hiking route that takes us to this mythical Basque peak.
GR 38 Route of the Wine and of the Fish
| | | |
| --- | --- | --- |
| Difficulty: Moderate | Time: 7 days | Distance: 162.8Km |
Muleteers, shepherds and pilgrims, among others, have ploughed the paths and trails of this land since time immemorial. Some of these ancestral paths have today become attractive hiking routes that put us in the shoes of their ancient inhabitants. One of these routes is the GR 38 or Route of the Wine and of the Fish, which linked the northern Basque ports with the fertile Ebro valley. These paths were once travelled by muleteers who transported fish from the ports in their carts and returned with wine and foodstuffs from the valley.
Tologorri along the Black Path
| | | |
| --- | --- | --- |
| Difficulty: Moderate | Time: 3:50h | Distance: 10.8Km |
The spectacular Salvada Mountains are home to places of incalculable beauty and trails that delight those who walk them. The Tologorri is one of those mountains with an imposing and unmistakable silhouette that tempts us as soon as we contemplate it. There are several ways to reach its summit. One of the most spectacular routes is the one that takes us to the Tologorri along the Black Path, whose route combines thick forests with a vertiginous stretch that reminds us of the typical Pyrenean Fajas.​
Mugarra from Mañaria
| | | |
| --- | --- | --- |
| Difficulty: Moderate | Time: 3:25h | Distance: 8.2Km |
The Urkiola Natural Park is undoubtedly one of the temples of nature in Bizkaia. It is criss-crossed by countless routes and is home to magnificent viewpoints and some of the most emblematic Basque mountains. One of these mountains is the Mugarra and the route we propose takes us from the town of Mañaria, not far from Durango, to its summit along the classic route. A demanding and beautiful route that the most intrepid and experienced climbers can vary in part to progress along the vertical ridge that precedes the summit.
Advertisement
Circular route through the Itxina Massif
| | | |
| --- | --- | --- |
| Difficulty: Moderate | Time: 3:25h | Distance: 9.4Km |
Traditions and legends are part of this land, legends that in the majority of cases add to the charm that some routes and places already have. This is the case of the route through the Itxina Massif, a route that combines almost like no other the exuberant and hard-working nature with the most deeply-rooted legends of Euskadi. The Supelegor Cave, the Eye of Atxular pass, together with the old shepherds' huts, the green Campas of Arraba and the chaotic karstic terrain that characterises this area of Bizkaia make this hiking route an essential route.
Anboto from the Sanctuary of Urkiola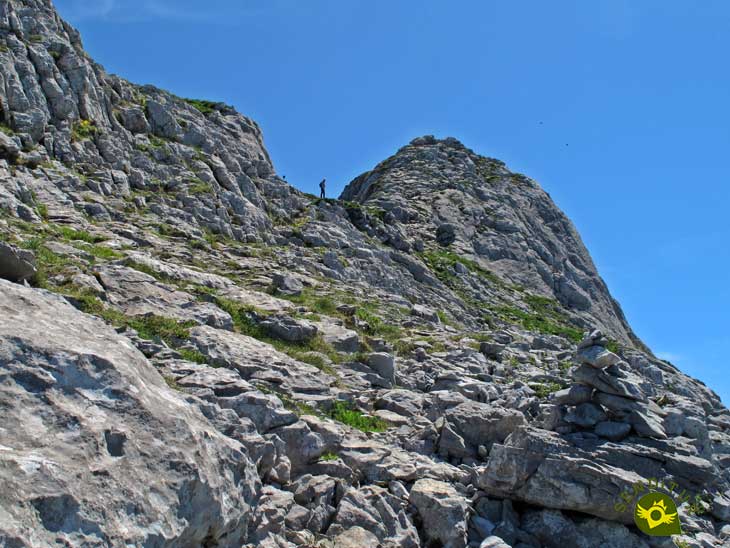 | | | |
| --- | --- | --- |
| Difficulty: Remarkable | Time: 3:45h | Distance: 10.2Km |
Rare is the Basque mountain where the goddess Mari does not have a dwelling where she dwells at any given time. The colossal Anboto could not be an exception, being one of Mari's favourite places to protect and control nature. Climbing to the summit of Anboto from the Urkiola Sanctuary is the classic route followed by most of the mountaineers who venture into this task. This is an ascent that, especially in its final stretch, will require experience and preparation, as well as good terrain conditions if we want to conquer this peak.
Urdaibai Biosphere Reserve its secret corners
Spectacular viewpoints, rugged cliffs, mountains that require an effort to conquer and a wonderful estuary are some of the attributes that the Urdaibai Biosphere Reserve has to offer. There are a number of routes to follow, such as climbing up to the hermitage of San Pedro de Atxarre, following the GR 38 or the GR 98, visiting some of the charming villages that are located here or visiting some of the archaeological sites that have been found here. A wide range of activities, including birdwatching, which we leave to you to choose from.
Greenway of Arrazola
| | | |
| --- | --- | --- |
| Difficulty: Low | Time: 2:40h | Distance: 9.2Km |
Industry and mining have formed part of Vizcaya, in some cases leaving an indelible mark on the landscape. A mark that in some cases has been reconverted into pleasant hiking trails that delight those who walk along them, allowing them to reminisce about other times. This is the case of the Greenway of Arrazola, one of the various old railway lines that have now been converted into hiking routes in Bizkaia. This greenway takes us along the Arrazola valley from Apatamonasterio to the old loading bay of El Tope, at the foot of the imposing Anboto.
Discover in Senditur more hiking routes to do Bizkaia
These 8 hiking routes in Bizkaia to enjoy nature and the mountains are just a small example of the many possibilities offered by this province of the Euskadi. They are undoubtedly a magnificent starting point to begin to discover the different itineraries and landscapes that this land treasures through its paths and trails. Some are more demanding, others are simple and pleasant walks, but all of them are highly attractive.
And in yours... Which ones would they be?
ARE YOU LOOKING FOR...?
Sponsored Content
These references are offered for information purposes only, trying to provide useful information to users, in no case do they imply that Senditur recommends or discourages a particular service or product, take a look at our Legal Conditions. Sponsored Content, by making any reservation or purchase through these links you contribute to the maintenance and improvement of this website, in no case will you be charged a surcharge on the transaction you make. Thank you very much for your contribution.
CHOOSE YOUR ROUTE

Flora & Fauna
Mountain
Paths
Way of Saint James
In Family
Tourism
Cultural Heritage
Natural Heritage
Blog
SUBSCRIBE TO SENDITUR
We would be grateful if you could write to us to inform us of any erroneous or outdated information you have found, or simply to let us know what you think at Thank you very much.
Advertisement