8 Plans for a Holy Week of Trails and Mountains
The Holy Week is a time of deep-rooted and historical traditions, of culture and processions, it is a time of typical sweets, of passion and feeling, but why not, it can also be a time of nature, of wild and steep mountains, of impressive places all of them crossed by old routes loaded with their own history that have arrived until our days turned into real temples for trekking.
Without a doubt, there are countless options that come to mind when writing this article, and it is an arduous task to summarize them in 8 Plans for a Holy Week of Trails and Mountains. The route of Los Calderones and Hoces del Turia in the Valencian Community, the one that runs along the Borosa River in Andalusia, AigüesTortes and Lake San Mauricio in Catalonia, the Lagunas de Ruidera National Park in Castilla La Mancha, the Route of the Volcanoes in the Canary Islands and so many other magnificent places and paths with which to share the Easter processions.
These are the hiking routes for Easter that we propose
We present you routes and places that are well known, along with others that, surely, are not so well known, hoping that they can serve as inspiration and a starting point for us to take a look at the nature that awaits us, of course respecting it and taking care of it as it deserves, while we live our particular passion... trekking, the mountain...
Trail the Holm oaks
| | | |
| --- | --- | --- |
| Difficulty: Moderate | Time: 2:30h | Distance: 9.4Km |
The mountains that surround the town of Anguiano in La Rioja, and that are part of the imposing La Demanda Mountain Range, treasure beautiful landscapes, historical and important monasteries and interesting paths, among other attractions. This itinerary, with the permission of its older brothers included within the denomination of Routes between Forest, created by the association of municipalities of the zone, transports us to discover splendid and hidden corners loaded with the character and history that this Rioja region has.
Gorge of the Hells
| | | |
| --- | --- | --- |
| Difficulty: Moderate | Time: 5:10h | Distance: 15.6Km |
Extremadura treasures true natural jewels that come to add to the rich architectural and cultural heritage it possesses. Monfragüe, Los Barruecos and so many other places, each with its special singularities, offer the nature lover a true earthly paradise. As the Valley of Jerte does, not only with its deservedly famous spring, but also with the rich natural space it offers, which includes the Natural Reserve of the Gorge of the Hells crossed, for example, by the Route of Charles V.
Route of the Alba
| | | |
| --- | --- | --- |
| Difficulty: Moderate | Time: 4:00h | Distance: 14.6Km |
Muniellos, the Natural Park of Somiedo, the one of the Ubiñas and La Mesa, the one of Ponga, the Picos de Europa or the Natural Park of Redes, where we find this indispensable trekking route, are a small sample of how much the Principality of Asturias can offer us. Noisy routes along the coast await us, such as the Jesters of Arenillas, steep itineraries through rugged congosts, such as the Route of the Xanas or surprising walks through a huge natural cavity, such as the The Cuevona of Cuevas del Agua.
Painted Oma Forest
| | | |
| --- | --- | --- |
| Difficulty: Medium | Time: 2:00h | Distance: 7Km |
It is more common than it may seem to us to travel routes that combine nature and culture when visiting these, old hermitages, impregnable castles or solitary monasteries. But to make a route of senderismo while we visited an authentic pictorial museum outdoors, whose linens are the same trees that surround to us and the different rooms that compose it are the slopes from the mountain where it is, does not seem so simple. Euskadi accumulates nature and fondness to the mountains almost by equal parts, a whole world of possibilities.
Birth of the Asón River
| | | |
| --- | --- | --- |
| Difficulty: Moderate | Time: 2:35h | Distance: 9.4Km |
Cantabria, like the slogan that defines it, infinite, surprises us with countless possibilities and spectacular places. As pilgrims, we can walk the Lebaniego Way, from the coast to the very heart of the Picos de Europa, crossing the narrow Hermida Gorge, entering some of its impressive caves, such as Covalanas o Cullalvera or approaching the base of the great waterfall through which the Asón River flows after its source in the heart of the Collados del Asón Natural Park...
Path of the Big Lagoon
| | | |
| --- | --- | --- |
| Difficulty: Moderate | Time: 5:00h | Distance: 13.6Km |
Many myths and legends come to add to the attraction that the majestic Mountain Range of Gredos already has, giving it that special atmosphere that great mountains usually have. Legends such as that of La Serrana de la Vera, a woman who seems to be waiting for us submerged in the depths of the Big Lagoon. In the Circo de Gredos, we will find a place as inhospitable as it is beautiful, composed not only of the mysterious lagoon, but also of the vertical and rugged mountains that surround it, known in the mountain world as El Calderón de Gredos.
Ascent to Oroel Rock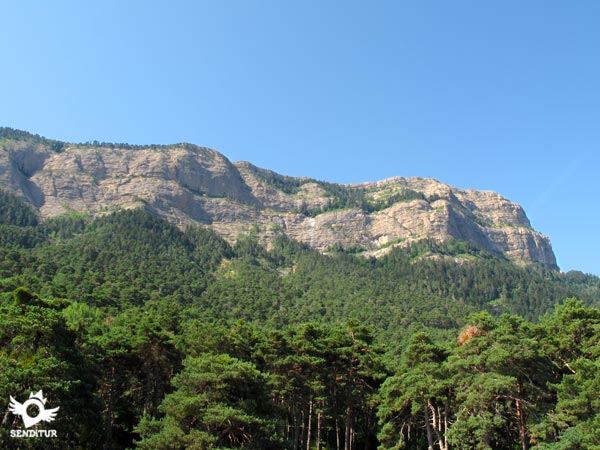 | | | |
| --- | --- | --- |
| Difficulty: Moderate | Time: 3:05h | Distance: 8.2Km |
Mountains of more than 3,000 m, crystalline water pools, deep valleys and ravines furrowed by raging rivers, quiet and welcoming high plateaus, The Pyrenees sare an inexhaustible source of possibilities for nature lovers. Contemplating them with perspective, enjoying them as far as the eye can see from the privileged balconies that overlook them, is something we can do for example in Oroel Rock, with locations like Jaca at our feet and the distinguished proximity of emblematic places like the Monastery of San Juan de la Peña.
Foz of Lumbier
| | | |
| --- | --- | --- |
| Difficulty: Adapted | Time: 1:00h | Distance: 3.6Km |
Since immemorial times, man has feared and respected the force of nature, but he has also known how to take advantage of the resources it put within his reach and the tireless work it does. Work that has resulted in abrupt landscapes carved by the force of water. Landscapes such as the Foz of Burgui, the Foz of Arbayún or the Foz of Lumbier, is the last one crossed by an ancestral road that was used as a railroad and that has recovered part of its old splendor.
Discover in Senditur more routes and places of interest
Ideas that can be an excellent starting point to complete our Easter plans by enjoying it and the places, the nature and the routes that surround it.
ARE YOU LOOKING FOR...?
These references are offered for information purposes only, trying to provide useful information to users, in no case do they imply that Senditur recommends or discourages a particular service or product, take a look at our Legal Conditions. Sponsored Content, by making any reservation or purchase through these links you contribute to the maintenance and improvement of this website, in no case will you be charged a surcharge on the transaction you make. Thank you very much for your contribution.
CHOOSE YOUR ROUTE

Flora & Fauna
Mountain
Paths
Way of Saint James
In Family
Tourism
Cultural Heritage
Natural Heritage
Blog
Subscribe to Senditur
We would be grateful if you could write to us to inform us of a ny erroneous or outdated information you have found, or simply to let us know what you think at Thank you very much.