8 Wonderful places to visit in Bizkaia
Euskadi is a land of mountains, sea and ancient traditions that still mark the character of this land, and Bizkaia could not be an exception. Landscapes of incalculable ecological value, as well as great beauty, add to the remarkable historical and cultural heritage that this province treasures. These are values that surround us as soon as we set foot in Bizkaia and that we will undoubtedly see reflected in every surprising corner we visit. Places that on more than one occasion emanate a mysterious sensation, of legend, like that of the mythological characters that are hidden in them.
These are the places we suggest you visit in Bizkaia
Without a doubt to the question what to see in Bizkaia, are remarkable and countless wonderful places that we can recommend if we encouraged to visit this province of the Basque Country. Authentic natural monuments compete, at the same time that they share the protagonism of any guide with the great architectural heritage that the province treasures. Archaeological sites, ancient castles, hermitages converted over the years into imposing sanctuaries, await us. But in this land of mountains, valleys and rivers, in this land of rugged coasts, we could not fail to include some natural spots that will surely leave us breathless, and not due to the physical effort required to visit them in some cases. In any case, they all add to its charms the unique stories that accompany them, and the fact is that Basque mythology also brings added value to many of the places we will visit. With these 8 wonderful places to visit in Bizkaia we want to bring you a small sample of the surprising and sometimes unknown places that await us.
Monastery of Zenarruza
Bizkaia has been, and is, crossed by ancestral routes followed by muleteers and pilgrims, among many others. It is in the middle of the Way of Saint James along the coast, and of one of the branches of the Wine and Fish Route, today GR 38, where our first destination is located, the old collegiate church of Zenarruza. This religious enclave surprises not only because of the landscape that surrounds it, but also because of its architectural ensemble. Its Renaissance cloister, the 14th century church which houses true sculptural jewels, the remains of the old road along which the devout pilgrims used to ascend to the monastery from the nearby town of Ziortza - Bolibarm, are just some of the charms that this place has to offer.
Urdaibai Biosphere Reserve
As it could not be otherwise, nature has a leading role, this time thanks to the magnificent estuary that extends from Gernika - Lumo to Bermeo. A natural space that is an unbeatable and diverse habitat for different species of both animals and plants. With corners of great scenic beauty from which to observe the passage of the cetaceans that furrow the Basque coasts. But the Urdaibai Biosphere Reserve also offers us the chance to immerse ourselves in the history of the towns and places that make it up by walking along one of the paths that run through it and, of course, visiting the Urdaibai Bird Center to learn more about the importance of this wonderful enclave in Bizkaia.
Necropolis of Argiñeta
Not far from the monumental town of Elorrio, nestled among imposing oak trees that help to create the mystical atmosphere of this place, the historic Necropolis of Argiñeta awaits us. Next to the hermitage of San Adrián, in whose interior the cobbled floor designed for this small sanctuary in the 17th century is still preserved, a good number of steles and sarcophagi await us. The peace and quiet that can be breathed in this place invites us to spend the time it deserves, to review the various inscriptions that mark these true funeral monuments from another era and to take a break to enjoy the beautiful views that can be seen from here.
Otzarreta Beech Forest
The delicate balance in which man and nature live together is usually upset to the detriment of the latter by the irresponsible actions of human beings. But sometimes these acts, surely thanks to the enormous wisdom of nature, end up turning the places where they take place into true natural temples, this is the case of the Otzarreta Beech Forest. Here some curious beech trees await us, because due to the coalmen who year after year cut down their branches, the beech trees, have changed their usual physiognomy becoming true giants, in some cases of advanced age, and forming a small forest that combines beauty and mysticism almost equally.
Cave of Santimamiñe
There are not few archaeological remains to be found throughout the territory that belongs to the province of Bizkaia, but perhaps few like those found in the mysterious Cave of Santimamiñe. Located in the municipality of Kortezubi on the slopes of Mount Ereñozarre, the geological importance of this cave is compounded by the archaeological remains and paintings found inside, making it one of the most important sites of its kind in the north of the Iberian Peninsula. In addition to the unquestionable attractions that invite us to visit this place, the path that brings us closer to the unique and well-known Oma Forest starts right here.
Sanctuary of Urkiola
Not far from one of the mythical Basque mountains, the Anboto, is another of those places that almost perfectly combine nature and history. Today, the Sanctuary of Urkiola is an imposing architectural work that stands out, among other things, for its unfinished structure. As well as visiting its interior and learning about its history, it is essential to go round its surroundings where several small chapels await us, hidden in the leafy forest that surrounds the Sanctuary. We must also take advantage of the occasion to go to the impressive Viewpoint of the Three Crosses from which there are magnificent views, or take the opportunity to travel some of the countless routes that start from the same sanctuary.
Castle of Butrón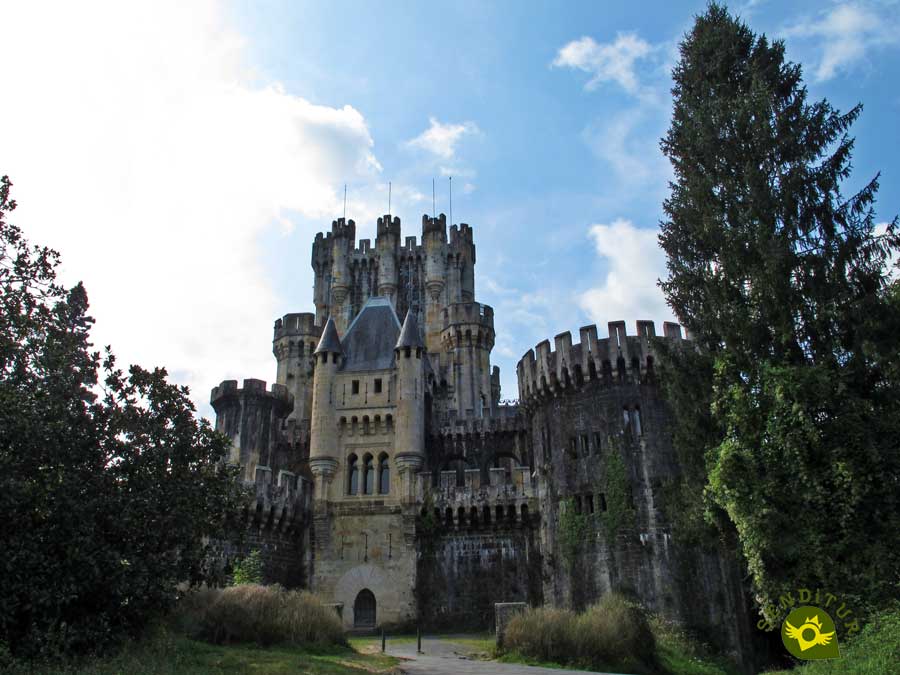 As if a true journey through time were our next destination, it takes us back to times gone by, back to the Middle Ages, when knights fought bloody battles and besieged impregnable fortifications. The Castle of Butrón is a clear example of those times which, fortunately, has survived to the present day, with more or less reforms. When we go there to visit it, there is nothing in the landscape that makes us feel the formidable castle we are about to discover. The natural environment that surrounds it contributes to form the impression that time has stopped in this place, although the different reforms that this regal castle has suffered over the years are more than evident.
Saint John of Gaztelugatxe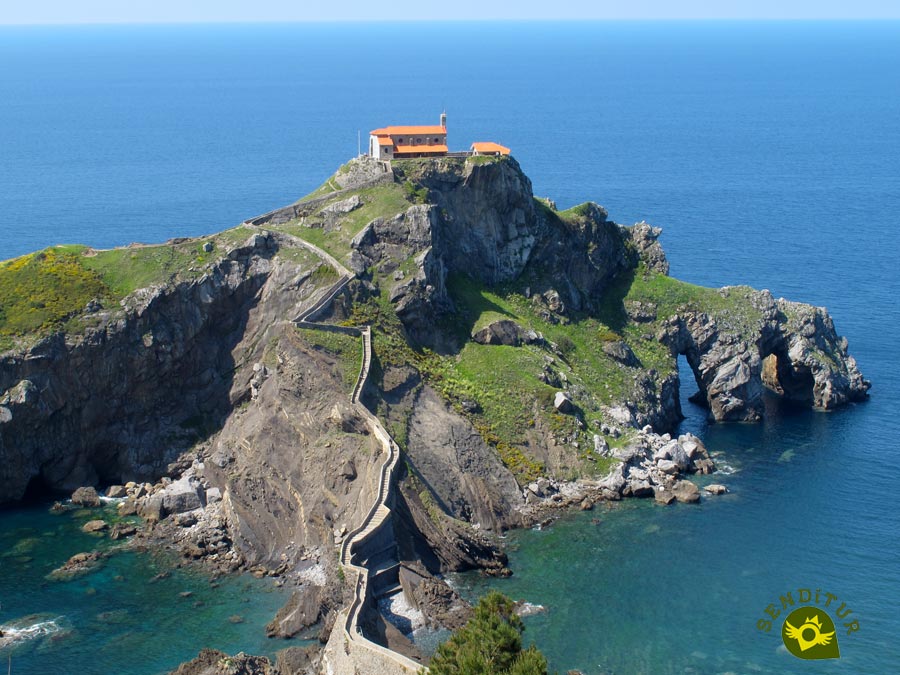 If there is a magical place that takes us to other worlds, thanks to having been the scene of a famous series, this is Saint John of Gaztelugatxe. Located in the middle of the Cantabrian coast, this peculiar place treasures beauty, history and legends almost equally. Overcoming its steep steps and climbing to the top of this islet, in the same place where the chapel of Saint John stands, is an experience not to be missed. There were several uses of this enclave over the years and that undoubtedly have forged its fame and character making it the tourist reference that it is today. An influx of visitors that have forced to regulate access to preserve this symbolic place.
Discover in Senditur more places and hiking routes in Bizkaia
There are many corners that have remained in the inkwell, in addition to these 8 Wonderful Places to visit in Bizkaia that are waiting to be discovered by you.
ARE YOU LOOKING FOR...?
These references are offered for information purposes only, trying to provide useful information to users, in no case do they imply that Senditur recommends or discourages a particular service or product, take a look at our Legal Conditions. Sponsored Content, by making any reservation or purchase through these links you contribute to the maintenance and improvement of this website, in no case will you be charged a surcharge on the transaction you make. Thank you very much for your contribution.
CHOOSE YOUR ROUTE

Flora & Fauna
Mountain
Paths
Way of Saint James
In Family
Tourism
Cultural Heritage
Natural Heritage
Blog
SUBSCRIBE TO SENDITUR
We would be grateful if you could write to us to inform us of a ny erroneous or outdated information you have found, or simply to let us know what you think at Thank you very much.