Did you know that... Arches of San Juan de Duero
As the Monastery of San Juan de Duero is known, it is located on the outskirts of Soria, on the banks of the Duero and protected by the El Mirón Hill and the Mount of Animas. In this beautiful enclave the Hospitallers of San Juan de Jerusalem, taking advantage of the repopulation action of Alfonso I, decided to settle down to carry out their work of protection and shelter of walkers, pilgrims and the helpless, and taking advantage of the simple church that was here they reformed it and built a monastery that also had a hospital. This monastery, built between the 12th and 13th centuries and dedicated to San Juan Bautista, patron saint of the order of San Juan knights, remained inhabited until the 18th century. After years of abandonment it was declared a National Monument in 1882 and years later it was annexed to the medieval department of the Numantine Museum.
Advertisement
To discover What to see in Arches of San Juan de Duero?
Of the primitive monastic complex, only the church and the cloister of the monastery remain, which, adjacent to it, is an impressive example of medieval Christian architecture, being considered one of the Wonders of Spanish Romanesque, is located south of the church and has an irregular quadrilateral shape with chamfered corners. It served to communicate the different areas of the monastery and there were burials there between the 13th and 15th centuries. Its arcade is a true symphony of architecture and styles, with four well-differentiated sections that do not break the harmony and that go from pure Romanesque, with double columns, to slightly pointed horseshoe arches, Almoravids and Nazarites, others that intertwine... The church, today without worship, is very simple, and the small temples on both sides of the presbytery are striking. Their construction, after that of the church, is believed to be motivated by the primitive Christian rite with Greek influences in which the priest hid, at the moment of consecration, behind a large cloth that these would hold as an iconostasis. Each one of them houses an altar and each one has a different dome, semi-spherical one and the other conical one.
Traditions
It was a tradition that the Jurors, a couple for each neighborhood or quadrille that becomes a solemn ceremony and with delivery of canes of command in " Mayors of Neighborhood ", used the monastic set, already abandoned, for his annual celebration of the holidays of San Juan.
Advertisement
Curiosities
In the competition held by the Centre for Romanesque Studies (CER) to find out which were the seven most admired Romanesque buildings, San Juan de Duero came in fourth place, after San Isidoro de León, the Cathedral of Santiago de Compostela and the Old Cathedral of Salamanca.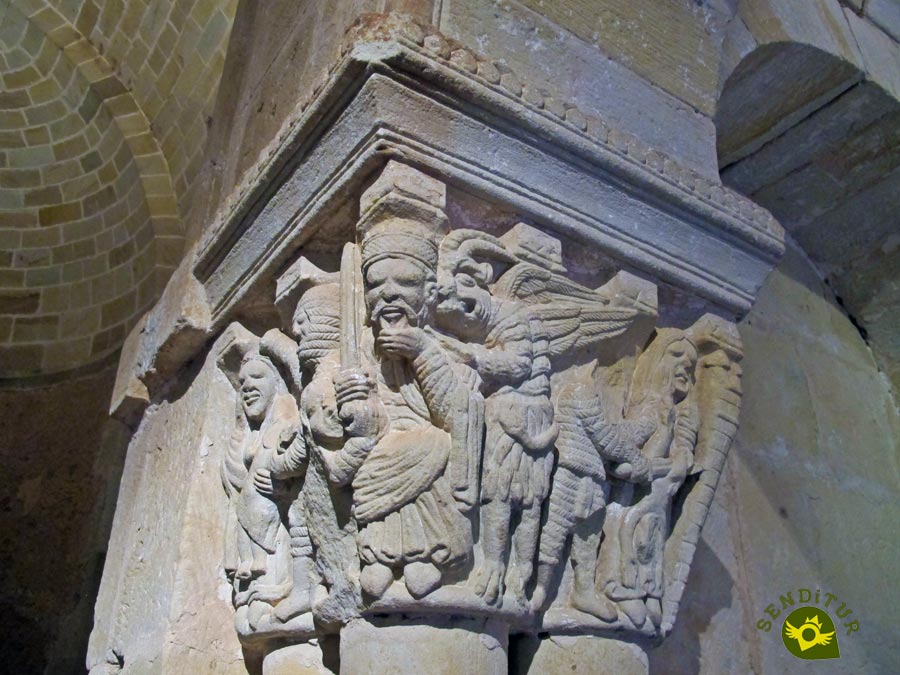 Useful information for visiting Arches of San Juan de Duero
The Arches of San Juan de Duero can be visited freely or with a guide.
With different morning and afternoon schedules from October to June inclusive, with the summer months being more extensive.
Sundays and holidays open from 10 am to 2 pm.
Monday and Sunday afternoons are closed.
Admission is free on Saturdays, Sundays and holidays.
For more information the telephone number is 975 230 218.
Look at the picture of 360º
​
Double-click on the image to view it full screen
The Legend
Legend has it that at the time of the Arab invasion a group of Christians were taken prisoner and locked in a cilla or barn and that they drew on the wall an image of the crucified Christ. That night they all dreamt the same thing, that Christ appeared to them and urged them to be patient because in the end they would be freed. When they woke up they told each other the dream they thought it was a fatal illusion and that one thing was to preach and the other was to give wheat. When the Christians were released, the place was used as a barn, but it was not surprising that no matter how many sacks of grain were taken out, the barn was always full. One day they decided to go down to the bottom of the silo and then they discovered an image of a crucified Christ identical to the one drawn on the wall and how their astonishment would increase when they heard him say How forgotten you have me, although besides preaching I give you wheat! The carving was then moved to San Polo but, perhaps and before its current location, who knows? this Christ of Oblivion or Christ Cillero could also have been on the altar of San Juan de Duero.
OTHER PLANS AND EXCURSIONS IN SORIA
---

​
SOME ROUTES NEAR ARCHES OF SAN JUAN DE DUERO
MORE ROUTES AVAILABLE, DON'T MISS IT...
---
​
MORE PLACES TO VISIT IN SORIA
MORE PLACES AVAILABLE, DON'T MISS IT...
---
​
CHARMING VILLAGES OF SORIA
---
​
MAYBE YOU'RE LOOKING FOR...
Sponsored Content
These recommendations are offered for information purposes only, trying to provide useful information to users, in no case imply that Senditur recommends or discourages a particular service, restaurant or accommodation, take a look at our Legal Conditions. Sponsored Content, when you make any reservation through these links you contribute to the maintenance and improvement of this website, in no case will it mean an extra price in the reservation you make. Thank you very much for your contribution.
Advertisement