Did you know that... Clavijo
It is situated on the steep hills that separate the eastern part of the valleys of Iregua and Leza, being the gateway to the mountains of Cameros. Its strategic geographical situation, from where a great extension of the territory belonging to different valleys is dominated, was reason for numerous disputes for its control, finding vestiges of diverse civilizations as the Roman one, although it is within the medieval period where the most known monuments are dated, being one of them the Clavijo Castle, of the beginning of the IX century and very probably of Muslim origin.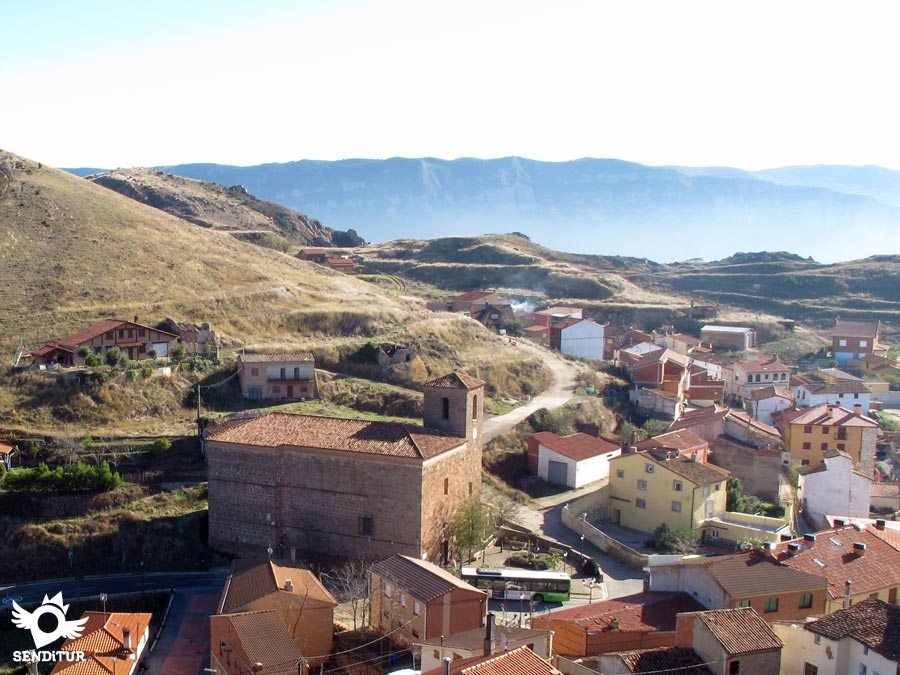 To discover What to see in Clavijo?
Clavijo Castle, the 18th century Royal Basilica of Santiago hermitage or the ruins of the Monastery of San Prudencio, with its primitive church from the end of the 12th century, together with the church of the Assumption from the first half of the 16th century, are traditional places of Jacobean pilgrimage. Clavijo is not only history and traditions, thanks to its rugged orography we can do many sports activities, being in its imposing rock a school of sport climbing, the best equipped, which thanks to its guidance allows us to climb all year round, although it is better to wait until the sun warms the wall.
Festivities
The 23rd of May is the commemoration of the Battle of Clavijo, the 25th of July are the festivities of the Apostle Santiago and on the 29th of September the patron saint festivities of San Miguel are celebrated.
Traditions
Ancient traditions shelter this locality. The Darkness that took place in the parish church during the nights of Wednesday, Thursday and Good Friday, where mass was sung in Latin and each psalm was extinguished one of the 15 candles that illuminated the church until all were extinguished, a moment in which the faithful played rattles and rattles, is a sample of them.
Curiosities
The battle of Clavijo was the beginning of Ramiro I in order to put an end to the Tribute of the Hundred Maidens, for which they had to be given to the Caliphate of Cordoba to avoid any aggression on their part. They are celebrated in places like León, Sorzano, Stº Domingo de la Calzada or in San Pedro Manrique traditional celebrations that commemorate the triumph in this battle.
The Legend
Remember, traveller, that this Field of the Slaughter, that from here currencies, was the mute witness that saw, in the din of the combat between Ramiro I and the hosts of Abderramán II -year 844-, the apparition of the Apostle Santiago, captain in white steed, gale of the morisma, Santiago and closes Spain"!
OTHER PLANS AND EXCURSIONS IN LA RIOJA

​
SOME ROUTES BY CLAVIJO AND SURROUNDINGS
MORE ROUTES AVAILABLE, DON'T MISS IT...
​
MORE PLACES TO VISIT IN LA RIOJA
MORE PLACES AVAILABLE, DON'T MISS IT...
​
OTHER CHARMING VILLAGES OF LA RIOJA