Technical data sheet of the route
Distance. 6.2Km
The route offers different possibilities that make this figure a variable reference.
Time. 1:20h
This time includes the circular route by the footbridge of the interior of the Grove of the Estajo, if in addition we approach by the footpath until the beach of gravel we must add approximately 30min more.
Time of year
We must bear in mind that the groves are undoubted areas, so in times of flooding it is advisable to inquire in advance at the interpretation center.
Required equipment
Footwear and sportswear according to the time of year and the weather. Consult our list of material and equipment for hiking. Read more.
Difficulty. Low
Physical
A route with no physical demands, practically flat, except for the short ramp that descends near the car park to the recreational area, which also has a small car park that we can reach with our vehicle.
Severity of the environment
No difficulty, although if being an undoubted zone in certain occasions we can find some muddy or flooded zone, for that reason in time of floods it is advisable to be informed before the state and the forecasts.
Orientation
The paths and trails are in good condition well defined and signposted, on the way back that runs along the meander, between poplar groves and farms, it is possible to get lost as we cross three other roads, but they are signposted and the path of the grove borders it next to the slope of earth that the Ebro formed many years ago.
Important places to pass through
| | | | | |
| --- | --- | --- | --- | --- |
| | | | | |
| 1-Parking | 0:00h | 275m | 0Km | 30T 604071 4671653 |
| 2-Recreational area | 0:10h | 267m | 0.5Km | 30T 604452 4671965 |
| 3-Viewpoint of Grove of the Nava | 0:25h | 269m | 1.3Km | 30T 604135 4672119 |
| 4-Grove of the Estajao | 0:55h | 266m | 3.3Km | 30T 605282 4672479 |
| 5-Parking | 1:20h | 275m | 6.2Km | 30T 604071 4671653 |
Coordinates UTM Datum WGS84
Profile of the route
Slope: 32m
Slope +: 16m
Slope -: 16m
Maximum altitude: 275m
​Minimum altitude: 265m
Cartography, maps and tracks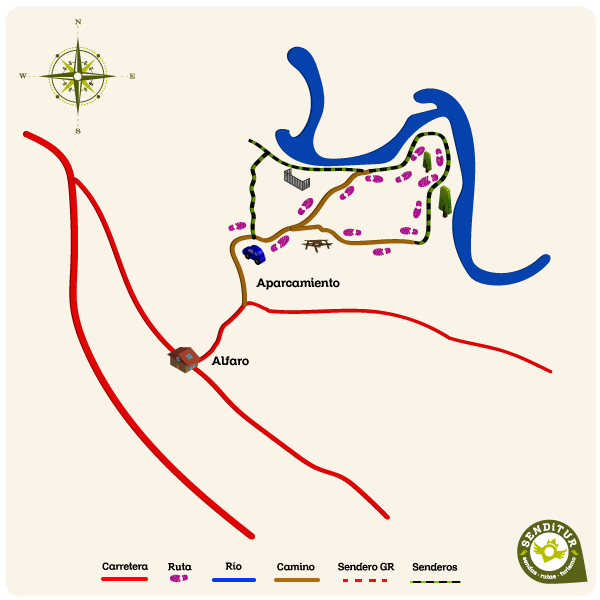 This sketch of the route is not made to scale nor does it contain all the information relating to the area, it is merely indicative.
​
This schematic with the path is approximate and has been created from the derived cartographic base © Instituto Geográfico Nacional "Cuadrante 244-3 1:25.000".
Senditur has manipulated the tracks to correct the aberrant points that may exist, caused by problems with the reception of the GPS signal. In any case the tracks are always approximate. SENDITUR encourages you to use the new technologies within your reach, using them as support and consultation in your activity, not basing the realization and orientation of the same only and exclusively on them, since they may see their functioning altered by very diverse causes, not functioning correctly and their indications may not be precise.