Description of the route through the Natural Monument of La Fuentona of Muriel
The car park (0h 00min) at the foot of the hermitage of the Virgen of the Valley, a short distance from the road where we arrived here, is our starting point for this interesting and simple route.
The wide track that leads to the next parking lot serves us, under the attentive eye of the hermitage, of unbeatable route to enter this natural monument. The river Abión will accompany us on this walk to La Fuentona.
We leave on our right a long footbridge that crosses it, where the path that comes from the house in the park reaches here, on the other side of the road where we arrived.
Without almost noticing it, we will find ourselves in front of the old , and its corresponding parking area.
It is right here where the real adapted tour begins that will lead us to our unique goal. A wooden footbridge is now in charge of leading us smoothly through this natural space.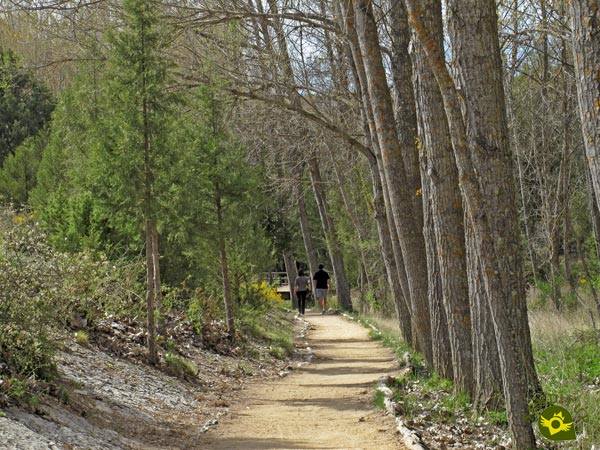 After passing this first rocky area, a tree-lined walk opens up before us, leading us to a new footbridge through which we will cross the riverbed.
The gentle undulation of the terrain in this part of the route is how many complications we should encounter along the way.
Soon after, we reached another bridge that marks the beginning of the trail that, if followed, would take us to the La Hoz stream waterfall. We left this detour to the waterfall (0h 25min) behind for the moment and continued on our way, crossing the conditioned little bridge.
Not much further ahead, among the vegetation that surrounds our route, the silhouette of La Fuentona of Muriel (0h 30min) emerges, the place where the route ends.
Trail to the waterfall
Once we have enjoyed the spectacular landscape that this natural treasure offers, we must return following the same itinerary that brought us here.
Of course we have the opportunity to approach, once crossed the bridge, to the peculiar waterfall of La Hoz. To do so, we will only have to follow the quiet path, which, without any conditioning, will lead us to it.
This trail crosses the leafy forest of this part of Soria without any major complications. The flow of the stream, which we will cross, helps us to predict the state in which we will find the waterfall.
Sooner than we had probably imagined, we reached the abrupt end of the trail, right at the foot of this whimsical waterfall, although to see it properly we will have to climb up on the rocks that cut our path or descend to the usually dry stream bed.
After contemplating the enormous and vertical walls that surround us, we will return until the beginning of the path to retake the course of the walkway that will take us back to the information booth and from there to the beginning of this route of La Fuentona of Muriel.