Description of the route to the Pyrenean lake of Estanés from Sansanet
From the Sansanet car park to the Pyrenean lake of Estanés 4,45 Km
The parking area of Sansanet (0h 00min) is the starting point for this beautiful hiking route in the Pyrenees.
We must continue descending along the path that leads to the car park.
Advertisement
We quickly come to the bridge that allows us to cross the Gave D'Aspe river, as the route continues on the other side.
We follow the course of the path and, almost without realising it, we reach the turn-off that we must follow. Another bridge, this time made of wood, allows us to cross the stream that goes in search of the nearby river.
The path that we are following begins to gain height, following the typical zigzags of mountain trails. As could not be otherwise, at almost every bend in the path there are some shortcuts that seek to climb more directly.
Soon we meet again the road that we left behind and that will be with us again for a while.
Once again we say goodbye to the path that leads to a nearby farm, to continue our ascent towards the Pyrenean lake of Estanés.
The forest still provides welcome shade on hot days, and the shortcuts invite us to make an extra effort to shorten the curves of the route.
Advertisement
The path is generally in fairly good condition and the more abrupt areas do not present any major complications.
The end of the forest also marks the border that separates France and Spain, now entering the Western Valleys Natural Park.
We follow the route, enjoying the little breaks it offers us. We even descend a few metres to cross a small stream.
However, we soon find ourselves once again faced with the slope that we still have to overcome to reach the lake.
The surrounding landscape is spectacular and invites us to take a break to enjoy it. Little by little we ascend in search of the Estanés pass, the highest part of our route.
After passing it, there is still a false flat ahead of us before we reach our goal.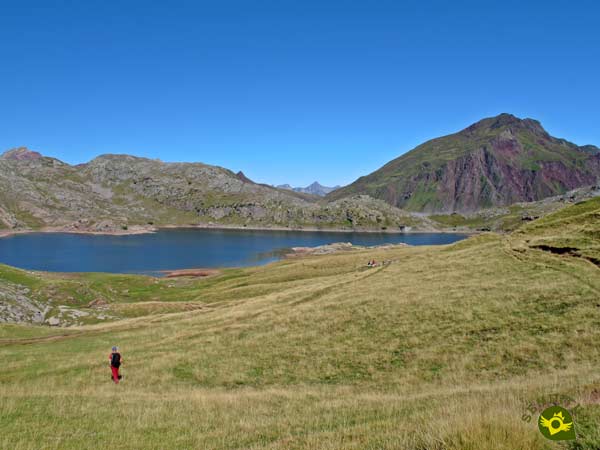 Nestled between the surrounding mountains, the Pyrenean lake of Estanés (1h 30min) rises up before us, only a short descent separates us, following the marked path that leads to its shore.
From the Pyrenean lake of Estanés to the Sansanet car park 4,45 Km
Once you have enjoyed this natural spot in the Pyrenees, it is time to return to the starting point, the Sansanet car park (2h30min). Most of the walkers follow the same route they came here without major complications.
It is true that it is possible to do a circular route, but in addition to the greater distance there are a couple of somewhat exposed overpasses and a vertical iron staircase that allows us to descend the rocky outcrop that borders the lake. This turns a relatively simple route into a more demanding and complicated itinerary.