Plans with children in Navarra
Thinking about what to see and do with children in Navarra is not an easy task, partly because of the large number of plans with children that this land offers us. In addition to the different places we can visit, there is an endless number of activities to do. A large number of diverse experiences that will make our trip to Navarra one of those getaways that we will remember with special affection. We are going to try to propose a series of excursions that, for sure, will delight children and not so children.
Visiting a planetarium, cycling along a greenway, immersing ourselves in labyrinthine gardens of exotic plants, walking through landscapes that could well be from other worlds or taking a trip back in time to past eras and imagining ourselves defending our castle from invading armies. These are just some of the many possibilities that Navarra offers us if we visit it with children.
Proposals for getaways with children in Navarra
Of course children are the real protagonists of these plans that we propose, but surely they will not be the only ones to enjoy the places or activities that we can do in Navarra.
Medieval Fair of Olite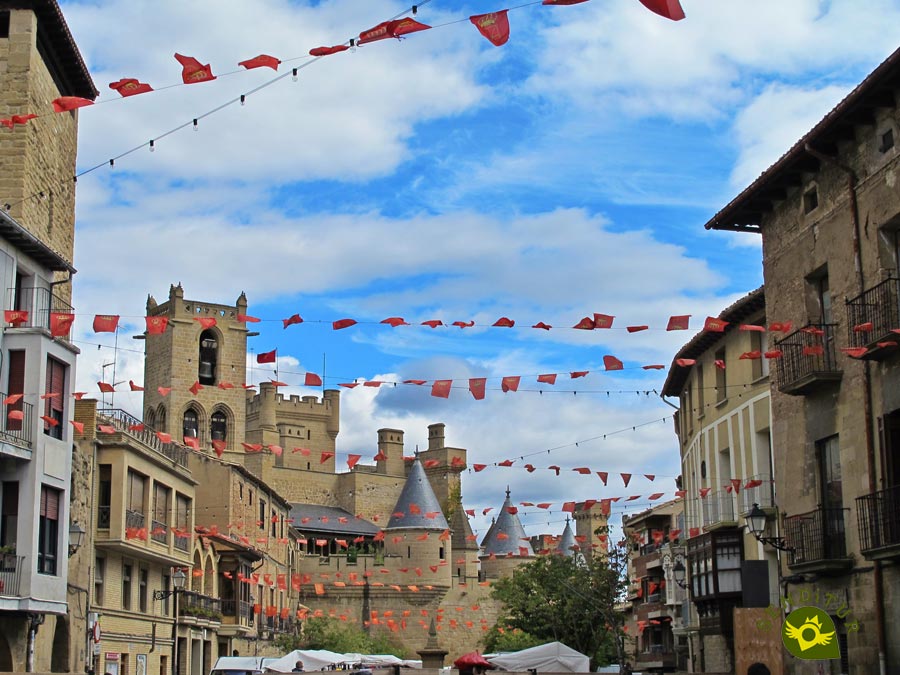 When we talk about Navarre, the rich history of that great Kingdom that once was, quickly comes to mind. To commemorate that great splendor, every year, the town of Olite takes a leap in time and travels to that period when princesses, knights and minstrels walked the streets. Visiting this medieval town during these days is a great adventure for children and adults. Its streets are decorated with shields, banners and insignia of brave knights. The markets, like those of yesteryear, are filled with merchants and artisans, and in the palace there are historical representations and theatrical visits.
Park of the Senses of Noáin
Photograph provided by the City Council of Noáin-Valle de Elorz
The English garden, the French garden, the Japanese garden, the Mediterranean garden and the edible garden await us in the town of Noain, a short distance from Pamplona. This garden could not be missing in this list of plans with children in Navarra. A place visited throughout the year by a large number of families, where imagination overflows fed by smells, textures, sounds and colors. A self-guided tour and the Lorenea center, the new building that houses the interpretation center of gardening and organic horticulture, allow us to learn more about this unique garden of Navarra.
Bardenas Reales
We radically change landscape to enter a place of curious shapes and striking colors. In the Ribera Navarra awaits us the desert of the Bardenas Reales, a place radically different from the green landscapes that characterize this land. In the interpretation center we can playfully learn how the figures that we will visit were formed, discover the different animals that live here and learn about the history of this arid place. There are countless routes that we can follow and that will lead us to know the different formations that characterize this place of Navarra.
Quinto Real Forest
The Navarre Pyrenees treasures incredible places that are well worth a trip with children, the Irati Forest is one of them. But the forest of Quinto Real, with its unique beech trees, its rich and varied fauna, and the great history that is hidden in it, is also a place to take into account in our trip to Navarra. In addition to the natural environment that surrounds us, incredible places such as the old munitions factory of Eugi await us. Wrapped almost completely by the vegetation we can visit the remains of this old industrial complex full of corners of great beauty.
Cave of Zugarramurdi
If there is a place in Navarra where children will surely be more impressed, this will be Zugarramurdi. And the fact is that the spectacular of this cave is joined by the stories of witches who gathered here. A unique combination that, together with the imagination of the children, will make this visit one of the most memorable. Also in the village we can visit the Museum of Witches, and not far away in the town of Urdax we can visit the caves of Ikaburu. Another place to immerse ourselves, not only in this geological jewel, but also in more legends and stories of witches and covens.
Señorío de Bertiz
Not far from the starting point of the Bidasoa greenway we find a natural space ideal to visit with the family. In Bertiz, in addition to the various hiking trails that can be done, there is also a botanical garden with a wide variety of species. Surely the visit will make the little ones enjoy while they walk through every corner learning and having fun almost equally. Also, not far from here, is the town of Elizondo in the heart of Baztan. Known among other things for being the protagonist of a famous trilogy of novels made into films, it is always an interesting getaway.
Sanctuary of Aralar
In the heart of the natural park of Aralar, to which it gives its name, this privileged enclave awaits us. A very visited place where the kids can enjoy nature and play to discover the name of the different villages and mountains that can be seen from this privileged viewpoint. In addition, the natural park where it is located offers countless activities to do with children, visit dolmens, go into the cave of Mendukilo, hiking trails such as the path of the source of the Larraún-Iribas, or even in winter snowshoeing.
Natural Park of Urbasa and Andía
Another great plan to do with children in Navarra is to visit the natural park of Urbasa and Andía. Here we can find incredible places such as the Enchanted Forest of Urbasa, a place full of shapes where the imagination of the little ones will lead them to discover a submarine, a giant duck and even a dinosaur. The Cristinos Cave is another of the treasures of this natural space, although this place is reserved for more adventurous families with some experience in this type of activities. Nor can we forget to visit the famous Nacedero del Urederra, a multicolored spectacle that we can not miss.
Discover in Senditur more places to visit and hiking trails in Navarre
I hope this small selection of plans with children in Navarra will serve you as a starting point to visit and discover all the charms hidden in this great land.
ARE YOU LOOKING FOR...?
These references are offered for information purposes only, trying to provide useful information to users, in no case do they imply that Senditur recommends or discourages a particular service or product, take a look at our Legal Conditions. Sponsored Content, by making any reservation or purchase through these links you contribute to the maintenance and improvement of this website, in no case will you be charged a surcharge on the transaction you make. Thank you very much for your contribution.
CHOOSE YOUR ROUTE

Flora & Fauna
Mountain
Paths
Way of Saint James
In Family
Tourism
Cultural Heritage
Natural Heritage
Blog
SUBSCRIBE TO SENDITUR
We would be grateful if you could write to us to inform us of a ny erroneous or outdated information you have found, or simply to let us know what you think at Thank you very much.