8 Ideas for hiking on the December long weekend
The holidays of the Immaculate Conception and the Constitution, the December long weekend, are approaching. Hopefully for some it will be a mini-holiday to escape from the routine, for others it will be just a few days to enjoy their hobbies or rest. An endless number of plans go through our heads, travel ideas or getaways often conditioned by the increasingly unusual weather at this time of year. Snow and skiing, beaches and sunshine share the limelight with other equally attractive destinations.
Getaways to small, and not so small, villages that, besides giving us all its beauty and the closeness of its people, offer us great hiking trails through spectacular scenery. Hidden corners to visit, full of history and surrounded by a busy nature that prepares for the long winter. We have at our disposal an endless number of beautiful trails that cross or communicate these places, and that are more than enough excuse to visit them and be surprised by the landscapes, the hermitages or the caves that await us in them, among many other surprises.
These are the hiking trails for the December long weekend that we propose you
We propose 8 ideas for hiking the December long weekend, always of course with the precautions and recommendations that in any case we must consider before embarking on our adventure. Routes of different characteristics or levels, some of them perfect to walk with the family, with children, and others more aimed at experienced hikers, but all of them of incalculable value.
Hermitage of San Frutos
| | | |
| --- | --- | --- |
| Difficulty: Low | Time: 0:45h | Distance: 2.4Km |
The province of Segovia offers us a good number of options when it comes to make our plans for this December long weekend and make the most of it. One of them would be to visit the Natrural Park of the Hoces of the Duratón River, here awaits us a natural landscape of great beauty crossed by various hiking trails that will delight children and adults. Routes such as the Trail of the two rivers that starts in one of the charming villages of Segovia, Sepúlveda, or nooks such as the Hermitage of San Frutos or the Covent of La Hoz where nature and history merge into a single landscape.
GreenWay of Arrazola
| | | |
| --- | --- | --- |
| Difficulty: Low | Time: 2:40h | Distance: 9.2Km |
Walking along an old railway line, among old and well-kept baserris, surrounded by spectacular scenery, and doing so at the foot of a mythical mountain such as Amboto, is undoubtedly a great plan for this December long weekend. The Greenway of Arrazola allows us to enjoy a pleasant walk through the foothills of the Urkiola Natural Park where, if we encourage us, there are also great routes and the singular Sanctuary of Urkiola. Although equally we will be tempted to complete our day by visiting for example towns like Durango​, Elorrio or curious places full of mysticism, such as the Necrópolis of Argiñeta.
Route of The Xanas
| | | |
| --- | --- | --- |
| Difficulty: Medium | Time: 3:15h | Distance: 7.6Km |
Relatively close to Oviedo, starting point of the Primitive Way, nawaits us a vertiginous path of breathtaking perspectives, carved into the vertical walls of the gorge it crosses. A gorge that leads us to hidden villages of bucolic landscapes that still preserve intact their traditions and customs, myths and legends, from which this trail gets its name, and that come to add to the already great attraction that this hiking route in Asturias has, undoubtedly one of the essential if we visit this land.
Route of the Serradero
| | | |
| --- | --- | --- |
| Difficulty: Moderate | Time: 5:10h | Distance: 15.8Km |
At this time of the year, and if the snow allows it, we can still enjoy the last autumn landscapes that paint our forests and mountains. There are several Routes between Beech Forest that we can find if we visit Anguiano, at La Rioja. This Rioja town displays all its charm offering routes suitable for children and not so children or reserved for prepared hikers. Trails that visit millenary singular trees, that join the villages of the area and their people or that approach corners of La Rioja that are a must to visit, such as, for example, the Monastery of Valvanera.
Viewpoint of the Vultures
| | | |
| --- | --- | --- |
| Difficulty: Low | Time: 1:05h | Distance: 4.4Km |
For Birding lovers, the period of greatest activity is usually concentrated during the months of spring and autumn, coinciding with the migration of birds. We do not have to be experts in ornithology to be able to enrich our routes and enjoy not only the landscapes or the effort of walking them, but also the life that surrounds us in them. The Mallos de Riglos is the home chosen by countless vultures that from December to April are immersed in full reproductive period. Here, in addition to the well-known route of the Way of the Sky we have a magnificent viewpoint from which to contemplate these impressive birds.
Path of the Ventanón
| | | |
| --- | --- | --- |
| Difficulty: Medium | Time: 2:40h | Distance: 10.4Km |
The region of The Merindades, at Burgos, is undoubtedly another tempting destination for a getaway. Medieval and charming villages such as for example Frías o Puentedey, architectural gems with a long history, such as the Monastery of Santa María de Rioseco and natural sites such as the Natural Monument of Ojo Guareña are just some of the attractions of this land. It is in this last place where we will find, not only the unmistakable hermitage of San Bernabé, but also the Palomera Cave, of incalculable value and with some of the most interesting routes of hiking in Burgos as the Path of the Ventanón.
Joar and the Plana from the Sanctuary of Codés
| | | |
| --- | --- | --- |
| Difficulty: Moderate | Time: 3:00h | Distance: 7.6Km |
From the same Sanctuary of Our Lady of Codés part this ascent that will take us to the top of these two rugged mountains, natural border between Navarra and the Basque Country. A route that will surely surprise us for its contrasts and landscapes, for its changing and sometimes aerial route and for everything that these two apparently modest mountains hide and that from the valleys that surround them it is not even possible to intuit. Valleys that from the panoramic views of both peaks are shown in all their amplitude, which allows us to enjoy them and this route through Navarra even more if possible.
Route Ports of Áliva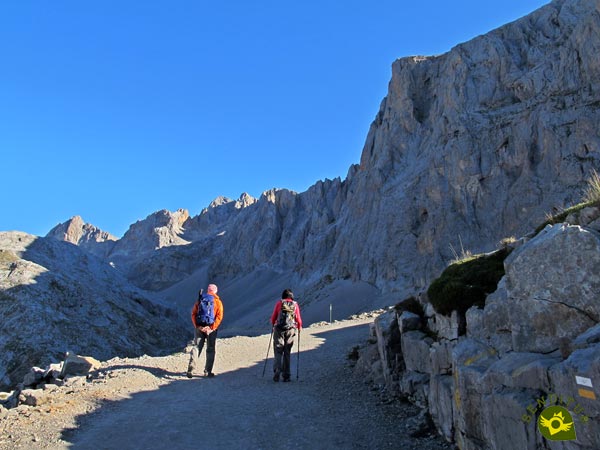 | | | |
| --- | --- | --- |
| Difficulty: Moderate | Time: 4:05h | Distance: 13.4Km |
To make plans to visit the Liébana Valley, in Cantabria, is to think, for example, of villages such as Potés, adventures like going up in the Cable Car of Fuente Dé or cultural or tourist visits such as that of the Monastey of Santo Toribio de Liébana all this under the incomparable setting of the National Park of Los Picos de Europa.But there is no doubt that the world of the mountain and hiking have in this region one of its most valued temples, with mythical ascents and impressive routes that, if the weather permits, will make us enjoy our getaway to the maximum in the December long weekend.​
Discover in Senditur more ideas for hiking the December long weekend.
These are just 8 ideas for hiking the December long weekend and discover different charming places, and that can be part of some of our plans or the many possibilities that we have ahead to enjoy these days of rest before facing the approaching Christmas. Towns, places of interest or natural places, all of them essential visits in the different regions to which they belong and that with permission of the meteorology that awaits us, so strange in these times, will make our December long weekend an unforgettable trip.
ARE YOU LOOKING FOR...?
These references are offered for information purposes only, trying to provide useful information to users, in no case do they imply that Senditur recommends or discourages a particular service or product, take a look at our Legal Conditions. Sponsored Content, by making any reservation or purchase through these links you contribute to the maintenance and improvement of this website, in no case will you be charged a surcharge on the transaction you make. Thank you very much for your contribution.
CHOOSE YOUR ROUTE

Flora & Fauna
Mountain
Paths
Way of Saint James
In Family
Tourism
Cultural Heritage
Natural Heritage
Blog
SUBSCRIBE TO SENDITUR
We would be grateful if you could write to us to inform us of a ny erroneous or outdated information you have found, or simply to let us know what you think at Thank you very much.